Shot blasting machine
spare parts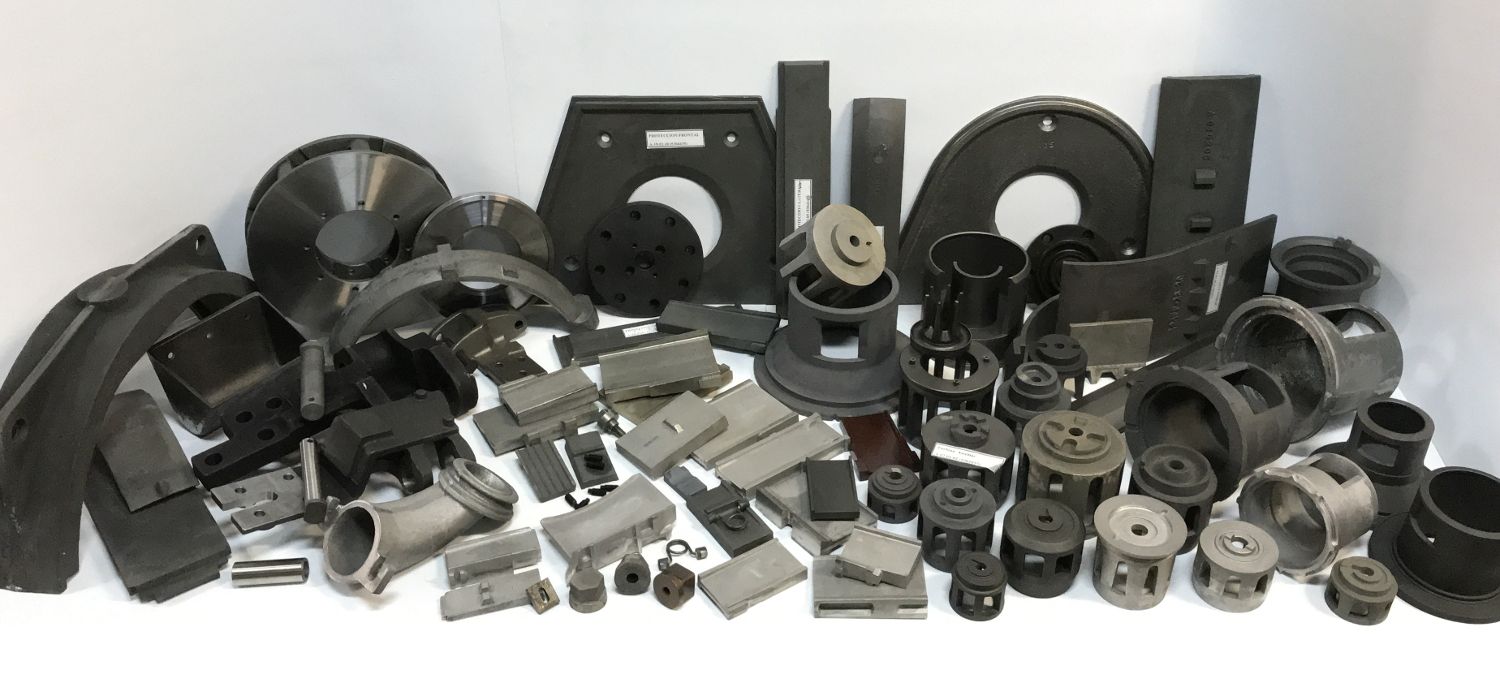 Our main activity is the manufacture and sale of wear-resistant spare parts for all types of shot blasting machines available on the Spanish and European markets. We have over 40 years of experience in the sector.
Currently, we manufacture spare parts that are compatible with more than 75 different types of turbines by most of the shot blasting machine manufacturers on the European market.
We manufacture parts that are compatible with the following brands::
Parts we manufacture for automatic shot blasting machine turbines include:
Blades and sets of blades with different balancing qualities: wear-resistant castings, tool steels and tungsten carbide.
Impeller, distributor, accelerator, injector.
Control cage, dose, cage housing, case.
Liner, wear plate, protection plate, cover, housing: top, side, end…
Rotor, wheel, disk or blade wheel.
Feed or supply duct, steel shot injector.
Clamp, hub.
Centring plate.
Screw, spring, birreta or blade clamping element.
Wheel housing: body, side, cover, clamps.
We also manufacture spare parts for tumble belt blast machines, drum shot blast machines, roller conveyor blast machines:
Band conveyor.
Metal belt:
cast chain links, pins, sleeves, cogs, swivel casters, chain shaft, driving pinions, ribs, slats, belt elements with or without overlap.
Wear-Resistant Cap Nuts.
We specialise in wear-resistant materials. All of our spare parts are of top quality and maximum durability. Over the many years that we've been in operation, we have developed and consolidated our own cast alloy, which has excellent durability for components in automatic turbine shot blasting machines and parts inside the blast chamber, as well as chain links and belt elements.
All of our spare parts are checked and specially heat-treated, guaranteeing maximum hardness of the surface and also the core of the parts, with a certified hardness of between 62 and 65 HRC. Blades are delivered in weight-balanced sets and assembly is previously checked on the blade wheel of the turbine.
Reduction of costs:
Thanks to the use of wear-resistant materials, our prices, as well as being competitive, provide customers with a significantly large reduction in various costs.
Over 40 years of manufacturing parts:
Years of experience and hundreds of loyal customers are the best endorsements for our products.
IMMEDIATE delivery times:
we have permanent stocks.
We can study the manufacture of any spare part based on an original part or a technical drawing and providing us with the number of parts necessary or monthly/annual consumption rates.
We can also supply other materials for shot blasting machines, including:
NEW TURBINES:
From 11 to 45 kW. Direct and indirect transmission.
Dust FILTERS, including CARTRIDGES or BAGS:
This is a very important part for the correct separation of dust from the steel shot, preventing the premature wear of turbine components.
New BRUSHES and replacements for used shafts with new filaments.
ANTI-ABRASION RUBBER for linings/liners inside blast chambers, with a hardness of 65 Shores, of different thickness, size and quality.
Anti-abrasion SHOT BLAST FEED HOSE or PIPE.
ELEVATOR BELTS and BUCKETS for shot blast elevators. Tailor-made. Delivered assembled as required.
CONVEYORS FOR SHOT BLASTING MACHINES: Manufacture of new conveyors and products for their repair.
WEAR-RESISTANT HOOKS: We manufacture wear-resistant hooks with a hardness of 55 HRC, which extends the hook's useful life by up to 5 times or more.
WEAR-RESISTANT CAP NUT: Cap nut with a hexagonal head, made of wear-resistant materials (protecting screws from abrasion).

Application: Attaching rubbers, blast chamber plates, etc… in places where there is wear due to dust, soil, shot or any other type of abrasive material.
Free Quote
To request your free quote for any type of standard or tailor-made spare part for shot blasting machines, don't hesitate to contact us.